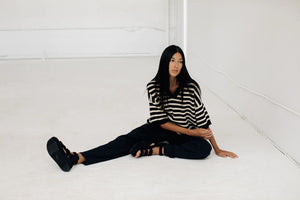 Paper Label
Comfort, Simplicity, Longevity
Why VERI PERI Chose Them:
We love that they are a Canadian company that focuses on providing timeless loungewear inspired pieces that are comfortable enough to wear at home but stylish enough to wear out. Their pieces are modern, versatile and made with quality sustainable fabrics made to last. They are advocates for slow fashion and design quality clothing that lasts, keeping them in your wardrobe and out of landfills.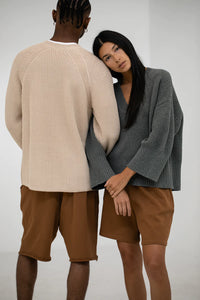 In PAPER LABEL'S Words:
PAPER LABEL is a Canadian sleep and loungewear company that provides timeless pieces in modern, easy silhouettes and quality fabrics to ensure they last. Each piece is designed thoughtfully and built to inspire flexibility - giving you the license to blur the lines when it comes to your style. We believe that home is truly where the heart is and that you should be able to bring a little piece of it with you everywhere you go.

Our designs reflect the belief that simplicity, comfort and style should coexist in every closet. Featuring signature fabrics, timeless silhouettes, and versatile style, our collections are everyday essentials that can be worn by everyone. Not only beautiful but also sustainable. Textiles impact the environment in a number of different ways, so we think about the impact as a whole and try to choose fabrics that have the least negative effect on the earth. We consider water and pesticide usage during fiber growth, renewability of resources, energy and chemicals used during processing, disposal techniques, care requirements, fabric longevity, and biodegradability.