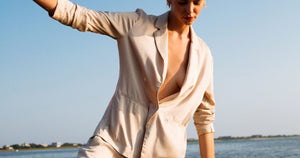 Neu Nomads
Luxurious, Organic, Ethical
Why VERI PERI Chose Them:
We love that they are a sustainable brand run by women committed to the transparency and traceability of their production process from start to finish. We love that the majority of their garments are produced in a family-owned factory in Delhi that maintains healthy working conditions, health care benefits and compensation far above the living wage. The rest are made between Portugal, Lithuania and Nepal in female-owned factories that meet the same standards. Their female designers celebrate women's bodies and take an inclusive approach to fit and design. Their pieces are classic and timeless.
In Neu Nomads' Words:
We think beautiful clothing should be affordable and accessible. By working directly with our suppliers and keeping overhead costs low, we're able to bring you products of exceptional quality. Plus, we're minimalists at heart. We believe in doing more with less, so we've designed every piece in our collection to be endlessly wearable, washable and versatile. We are committed to the transparency and traceability of our production process from start to finish. Not only are we intimately familiar with the production standards and processes behind our clothing, we've also forged close connections with the families and communities we work in. Our founders regularly inspect every juncture of the supply chain to ensure that our sustainability standards are upheld and our workers are treated fairly. From our founders to our factory workers to our customers, our mission at Neu Nomads is to empower our growing global collective of women.