Bobi Los Angeles
Effortless, Comfortable, Luxury Basics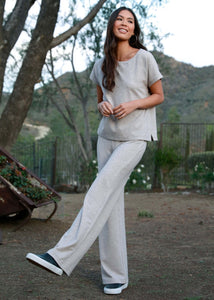 Why VERI PERI Chose Them:
We love them for their timeless, classic, effortless pieces that can be worn season after season year after year. Quality made items that stand the test of time, that can be re-worn and re-styled many different ways is a key way to keep clothing in your closet and out of the landfill. They also give to local charities, including Les amies d'elliot which help local families with sick children.
In Bobi's Words:
Bobi Los Angeles was founded in 2006, and started as a simple line of long layering tanks and contemporary t-shirts. The fine luxury jersey that conforms to the body and the beautiful garment dye colors made it an instant hit among the fashion community, including top celebrities, prestigious department stores, online retailers, and contemporary boutiques worldwide. Effortless, comfortable, casual luxury is the foundation of the brand. The brand now consists of five seasonal collections per year incorporating cool and edgy styles, with best selling fashion basics offered year round.